SlantShack Jerky was recently featured in the Japanese food magazine PECOPECO!  Check out the article online here.  And for those of you whose Japanese is a little rusty, we've pasted a translation below (courtesy of Google Translate).

SlantShack Jerky
This beef jerky is good anyway! Though it is thick, the hardness reasonable, out-source more and more meat and flavor as you chew chew. The best snack to go with beer!
This delicious beef jerky, that would make the appearance of a giant man in a cowboy who knows … It thinks surely established in the flesh, how, at the time Columbia was a university student and friend of the school year 2008 Joshua Kace's This is also surprising because he started.
The taste and acquire the top-rated five-star ranking of the best beef jerky, which stole the topic in many magazines, but a prince of the rising red circle just beef jerky.
The secret of good taste, and meat, marinate the source, it's in the spice and Gureizusosu surface, this seems repeatedly arrived at the taste in their research thoroughly. The recipe is top secret and that. It was a college student, nor the various stereotypes, what a product born out of unique ideas.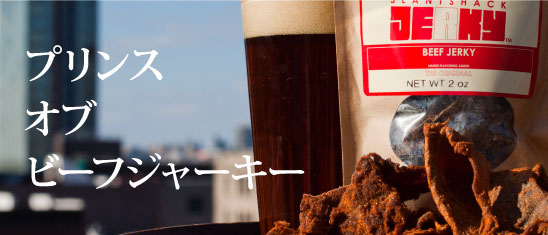 Than anything, you can order to recommend the purchase of a customized Web. The size, type of meat, marinate source types, spices, and have different types of Gureisusosu choose, and this is fun game. The combination of novice chefs can recommend the way, "Grass-Fed Original w / RedRub", "Grass-fed Hot and Smoky Beef with Brown Sugar Glaze", "Grass-fed Hot and Smoky Beef with Brown Sugar Glaze and Jerk McGurk's Wild Rubdown "has become.
Jerky full of creativity, by all means try it.